(Last Updated On: March 24, 2020)
There is a big difference between starting a blog and starting a successful blog
Starting a blog doesn't require any hard work, planning or investment
You can start a blog for free, write whatever comes in your mind, get little to no readership, earn nothing in return and you are fine
I'm sure you don't want that
The fact that you are here means that you want to start a successful blog
A blog that people read and help you earn enough income to pay for your bills
A blog you can call a business
I understand that creating a successful blog can be terrifying and confusing
I've been there and lost my hard-earned money in the process
That's why I've decided to write this in-depth post for you, I want you to start a successful blog without a hassle
So, this is not just another "start a blog" post that will only show you how to install WordPress and choose a hosting platform
I'm going to show you exactly how to start a successful blog, the right blogging mindset you should have, tools to use, how to create pages in WordPress, how to create your first blog post and everything a new blogger needs
This is going to be fun!
Why You Should Start A Blog
Love the idea of starting a blog but not sure why you should start?
Well, gone are the days where people used to create blogs for fun
Blogs are now created as a means of earning income
Blogging is now business, not a hobby
That being said you should start a blog if you want to change your life from where it is now
As for me, I started blogging because I was tired of living in poverty
I wanted to change my life
I wanted to help my husband pay some bills and put a smile on our kids' faces by buying them toys (used to buy them cheap old broken toys)
You can read everything in details here
Blogging is gradually changing my life and I'm loving it
It was hard for me to have a dollar in my pocket but now in less than a year of blogging I'm already pocketing $100+ every month from my blog
Not much but at least I have moved a step forward from where I was
I want you to tell your own story one day
So, what do you need in order to create a successful blog?
1. Have Self Confidence
It doesn't matter if you are an introvert when it comes to blogging Confidence is key
I want to share with you these 3 rules that you should implement throughout your blogging journey to help you grow as a confident successful blogger
a) Speak with Authority
Remember when you are blogging you are blogging for a large audience and your audience regard you as their mentor
Don't show your audience that you aren't sure about what you are doing or that you think you aren't capable of helping them
You earn your audience's trust and respect by showing authority in whatever you do
Keep educating yourself about your niche and find your writing voice and master it
You might consider yourself as a novice but they regard you as an expert, keep that in mind
b) NEVER Compare Yourself With Other Bloggers
I used to compare myself with other bloggers and would end up asking myself that… "who on earth would read my blog?…
so and so already blogged about this topic how will I get readers if I write the same topic?…
How am I going to earn money…how can I compete with these bloggers?
And you know what? I lost my confidence
Felt that I couldn't fit in
But I was wrong
Everyone can start a blog and fit in naturally in the blogosphere, you just don't need to compare yourself with anyone
Don't worry about that blogger who made $10,000 on her first month, you don't know how she achieved that
She's got her own problems and her own story, it's only that she is not sharing her struggles with you
And also what worked for her might not work for you,
I am not saying you shouldn't try her techniques if she shares but my point is you shouldn't compare yourself with her
Take other bloggers as your role models but don't try to be exactly like them
Believe that you can be successful as who you are.
Be yourself!
c) Your Level Of Education Doesn't Matter
I started blogging with my pc, free WiFi, my brains and No fancy degree
But here I am occupying my own corner of the internet with you reading my post
Honestly, I am proud of myself!
Having a 'fancy' degree is an added advantage, Yes, BUT you shouldn't worry about it if you don't have one
Know that blogging is one of those businesses you can start without any degree
I have seen successful mom bloggers without any degree
Remember when you are a blogger you own your blog and no one stops you from blogging because you don't have any degree
Be confident, as long as you can research, grab every freebie about blogging and write readable posts you are good to go
Always remember that you can become successful regardless of your level of education
What's important is to keep educating yourself about blogging and investing in blogging courses so that you build a successful blog
2. The Right Blogging Mindset
Before jumping into the blogosphere understand that:
a) Blogging Isn't Easy
I am not trying to discourage you but that's the truth, blogging is hard and so is any other business you might think of
When I started blogging I didn't expect the road to be hard, used to read income reports of those 'perfect' bloggers who earned thousands of dollars on their first month of blogging
That's not all, I also bought a course which promised that I will easily build my blog and get 50k traffic and earn $5k in my first month!
This was misleading and the course was full of BS
I ended up wanting to quit blogging
I don't want you to make the same mistakes
Put in some hard work and a lot of time in your blog
And always remind yourself that there is something amazing waiting for you
The first few months are going to be hard but things will become easier as your blog matures
b) You Don't Get Rich Quick
As I said earlier, you need to put in a LOT of hard work to build a successful blog
All those successful bloggers you are now admiring, worked hard for their business to grow
They didn't set up their blogs and wake up the next morning with a six-figure income
Focus more on researching, publishing more content, networking and marketing your blog, that's a lot of work eh?
The good thing is after all the hard work…money comes in naturally
Always remember if you don't work hard it will be very hard to find your way up
c) You Will Succeed
Have a very positive mind
Understand that as any other blogger out there you will also succeed
It doesn't matter that you are going to build your blog today,
Know that in years to come you will be telling your own story
All those successful bloggers started somewhere
They all went through ugly and painful days but you can only witness their beautiful days
If you ask them you will be surprised at what they went through, but they kept going because they believed in themselves
They believed that one day they will succeed
Don't try to be perfect, learn from your mistakes and keep going
I made countless mistakes too
Don't be afraid to try new things and don't be afraid of failing
Be afraid of quitting not of failure, turn on the positive mindset and believe in yourself, #successawaits
3. Figure Out Your Niche
Taking you back, when I was worried about my income, a friend advised me to change my niche
I don't blame her, I am the one who told her that my niche (blogging) was too competitive so obviously, she encouraged me to change a niche and I did
Bought a new domain name and was excited, I thought I was going to nail it
But you know what? I failed miserably,
I only wrote one blog post and I didn't enjoy researching anything relating to that niche
Tried to drive traffic from social media but it didn't work
Learnt that I should focus on a niche that I am passionate for regardless of the competition
When you focus on your passion:
You enjoy every milestone
You don't give up
You enjoy learning new things
You are patient
Success comes in naturally
So how do you find your passion?
As for me, I found my passion after taking a wrong way,
It made me realise that I have a passion to help aspiring bloggers build their blogs
I love writing tutorials, testing and reviewing blogging tools
To avoid going the same route as mine, I want you to figure out your passion in a simple way
What is it that you spend a lot of time thinking about?
Something that you enjoy doing or love reading, talk and maybe hear about
Is it babycare? programming? or some DIY stuff? That's your niche!
After you have figured out your passion/niche find out whether you can monetize it or not
Don't waste your time on a niche that isn't profitable unless if you just want to blog for fun
But the fact that you are here means you want to create a profitable blog and work from home
So do your research on Google or Facebook and find out how folks are making money on that niche
You have figured out your blog niche now what?
4. Set Up Your Blog
You have come a long way, now it's time to set up your blog
This is exciting! and you know what? It's very easy
Some links in this section are affiliate links. I may earn a small commission to buy toys for my kids if you use these links. You will not be charged extra. I only recommend high-quality products and I don't recommend them based on the small amount I earn if you decide to make a purchase
Here's what I recommend:
Buying your domain name at Namecheap >> It's cheaper
Using WordPress.org >> You have more options to customize your site unlike on other blogging platforms
Host Your blog at Siteground or Bluehost>> It's fast, affordable and you get 24/7 support
For this tutorial's sake, we are going to create your blog with Siteground (because that's my host)
Before setting up your blog:
a. Create Your Domain Name
When you want to set up a successful blog you need to use your own domain name for example www.yourdomain.com
Your domain name is going to be the address that folks will use to find your blog on the internet
Show your creativity when creating your domain name
Make sure to keep it short and simple to make it easy for your readers to remember
Already have a domain name in mind? find out if it's still available
Type in your domain below and see if it's available
Find a domain starting at $0.88
My domain name registrar is not the same as my host
You can still buy a domain name from Siteground if you are okay with the price
If you decide to buy your domain name from Namecheap follow Namecheap's guide on how to change DNS for a domain and point your domain name to Siteground
b. Start A Blog With Siteground
Disclaimer: I am not a Siteground affiliate, I only recommend Siteground because this site is hosted on Siteground and I love their services which means if you use my link I will NOT earn a commission but they will compensate me as a user, not an affiliate
It's crucial to choose a perfect host for your blog, the last thing you need is a slow loading site and poor support
My first blog was hosted on Wealthy affiliate,
I don't wanna lie, everything was okay (the load speed, the support etc) but their hosting plan was expensive to me
They offer Affiliate Marketing training and the fees for the training is inclusive to the hosting as well
So I had to pay $49 every month! this affected my progress BIG time because I couldn't focus more on my blog and the training
I was focusing more on finding money to pay my host
And I was frustrated when my blog made 40c and then $1 the following month…to spare you the details…
I did a lot of research and Siteground is the best host you can ever find if you seriously want to run your blog with ease and on a low budget
It's only $3.95 a month and you will have a free SSL and HTTPS to help you protect your site,
Ready to create your blog? let's get the party started!
Step 1: Choose A Plan
There are three plans on Siteground:
StartUp
GrowBig
GoGeek
Many bloggers recommend the GrowBig plan due to the added functionalities especially the Super cacher which will help increase your site loading speed
Another advantage of a GrowBig plan is that you can create multiple sites whereas you can only create one site with the StartUp plan
Don't worry if you can only afford a startUp plan (I started with a StartUp plan), a Siteground startUp plan is 2-3 times faster as compared to higher plans of other hosts
Do you want access to everything Siteground has to offer? Then the GoGeek is for you
Hover over the highlighted links and see the features of each plan
Step 2: Choose Your Domain
We have already discussed your domain name if you already have one click I already have a domain and type in your domain name
If you don't have an existing domain click Register a new domain and click proceed
Siteground domain registration fee is $15.95/year
Step 3: Fill Out Your Info
*There is no PayPal on Siteground payment options but they accept PayPal, you will have to contact them first*
When you click proceed you will be directed to a page where you will have to fill out your information and make a purchase
Note: When filling your purchase information make sure to pick 12 months or more in order to get the 60% discount
You can uncheck the extra services if you don't have enough bucks, they are listed at the bottom of the hosting services
Now click on the box to agree with Siteground Terms Of Services and Privacy Policy >> click Pay Now
Woohoo! your blog is now hosted on Siteground, this is the greatest achievement!
that was quick eh?
Now let's install WordPress
Step 4: Install WordPress
Installing WordPress is as easy as A, B, C so don't worry if you are non-techy you are going to nail this
First, on your User area >> click My Accounts >> Go to cPanel
Now head over to the auto installers section and click WordPress
This is where we are, now click install
The next step >> fill in the required details for your WordPress blog, remember to use a strong password
The final step >> press install and you are done!
Congrats! you have successfully created your own blog, yay!
Now the fun part, let's install a theme to design your new blog
Step 5: Install A WordPress Theme
Themes are meant for designing your blog
They make your blog look beautiful or ugly
So be sure to choose the right theme for your blog
That being said some beautiful themes are poorly coded and they might hurt your site SEO, be sure to check the theme ratings, reviews and downloads before using it
Here are a few themes that I've tried and recommend:
(my current theme) I LOVE Astra, It's a simple, lightweight SEO friendly theme and has more customization options as compared to other themes
If you want your blog to have that beautiful feminine look without hurting your site SEO then Blossom feminine is for you.
I love the that it gives you an option to show your post's last updated date without using a plugin and it also has slides
Now let's Install our theme:
Go to your WordPress dashboard and click Appearance >> themes >> and click add new
Type in the name of the theme you want to install in the search box
Next click install to install your theme
Once your theme is installed click activate and that's it
You now have a beautiful blog
But that's not all, we need to install a few WordPress plugins to improve your blog's functionality
Step 6: Install WordPress Plugins
There are more than 50,000 free WordPress plugins available in the WordPress directory and thousands of premium plugins as well
Plugins are applications that allow you to easily improve your WordPress blog's functionality
They make your WordPress experience easy,
You can add more widgets on your blog, add contact forms and optimize your entire blog for SEO with the help of plugins alone
You can do various customizations with plugins
In other words, there is a plugin for everything
To upload a plugin in WordPress: On your WordPress dashboard >> click plugins >> add new >> type in the name of the plugin in the search box >> click install and then activate: Here's a full post on how to install plugins
Here are 5 free WordPress plugins you should start using from day 1:
WPForms (For Contact Forms)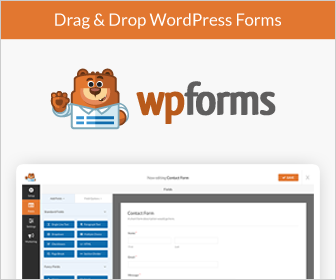 Once your blog is up and running you need a contact form to allow your readers and fellow bloggers to contact you
Unfortunately, lots of beginner bloggers don't add a contact form on their blogs
No one knows why but I guess they think nobody will bother to contact them since they aren't famous
That's all wrong
As I said earlier bloggers and your readers will contact through your contact form
When Valentina of thefemalebusiness.com featured me in this post she used my contact form to contact me and my blog was only 2 months old
So it doesn't matter how long you've been blogging there is someone who will definitely want to contact you, this means a contact form is a must-have
The good thing is it's free and easy to create a contact form using WPForms a WordPress contact form plugin
Follow this step by step guide on how to create a contact form using WPForms and create your own contact form
Yoast SEO (For Optimizing Your Posts For SEO)
When you are a blogger you write your blog post for search engines and humans
And you need to optimize your post for search engine bots to ensure that humans (your readers) will find your post in search engines such as Google, Yandex and Bing
Yoast helps you with almost everything you need to optimize your blog for SEO and it's free
I've covered everything about optimizing your post for SEO in this post on how to rank #1 on Google with a new blog
MonsterInsights (For Google Analytics)
As a blogger, you need to track your blog traffic so that you can understand your reader's interests and behaviour
To get that information you need to create a Google Analytics account (it's free) and link it to your blog
Follow this guide and learn how to set up your Google Analytics account
Google analytics stats are a bit confusing when you are new, luckily Monster Insights is created sorely for you to understand your stats
It displays Google Analytics directly on your WordPress dashboard in an easy to understand format
Follow this guide to learn everything you need to know about Monster Insights
Social Pug (For Social Sharing Buttons)
Have you ever visited a blog that shows share counts on every blog post?
Or that has social media icons on every post?
I'm sure you did, these blogs use social sharing plugins so that folks can share their posts
There are lots of social sharing plugins out there but I recommend Social Pug
Because it's lightweight, simple and easy to set up
UpdraftsPlus (For Backup)
All sites across the internet have a high risk of crushing or getting hacked
This means there is a possibility of losing your entire site anytime
To avoid such a painful experience you need a reliable backup plugin
And UpdraftsPlus is the best backup plugin that is easy to set up and it's free
Other Useful Plugins
There are lots of useful plugins that I didn't mention here are 4 other plugins that you need:
Step 7: Add Key Pages On Your Blog
There are important pages you should have on your blog from day one
To add pages on your blog, go to your WordPress dashboard >> click pages and click add new to create a page then hit publish
You can create as many pages as you like using the same method that I've shown you
Here are the key pages you should add ASAP:
About Me Page– Let your audience know who you are and how you can help them
Contact Me Page-This a page where you will add your contact form so that your readers, bloggers and brands can contact you, follow this guide for more information
Privacy Policy Page– Protect your blog legally by creating a privacy policy page for your blog. Get a free Privacy Policy Page here
Step 8: Create Your First Blog Post
Now that your blog is all set it's time to create your first blog post
To create a post: on your WordPress dashboard >> click posts >> click add new and write your post then hit publish when you are done
4 Things To Do Before Publishing Your Blog Post
As a blogger, you don't just write a blog post and hit publish instantly here's what to do
a) Proofread: It's natural to have typos on your blog posts so you need to proofread your post and correct your spellings, punctuation and grammar errors before publishing it
Proofreading all by yourself can be a bit risky because you'll definitely miss some errors and if you are an English non-native like me (who is still learning English) you might use wrong words and think they're okay because they make sense to you
For example, I often use where instead of were or vice vesa
Imagine if I publish my posts before proofreading and you read a sentence that goes: folks where exited about there new version of WPForms; embarrassing isn't it?
I recommend using Grammarly for proofreading, it's free and it corrects your grammar and spelling errors
b) Add Visuals: People love visuals if you add videos, images and gifs on your blog post they will likely stay longer on your site
You can find lots of videos and images on Google but not all of them are free or allowed to use
This means if you use these images on your blog you might end up getting sued
To protect yourself from the lawsuit:
Get gifs on Giphy
Make your own videos or embed them from YouTube
c) Make Your Post Readable: Most readers access the internet via mobile phones so you need to write short paragraphs
Aim for 1 to 3 sentences per paragraph
And add subheadings throughout your post, read this post for more
Step 9: Drive Traffic To Your Blog
Nobody knows about your site unless they visit and it takes longer for you to start getting traffic from search engines
So you don't need to wait for Google's blessing, luckily you can get free traffic from social media platforms such as Facebook, Twitter and Instagram
Simply create your account on one or two of the platforms and start promoting your blog
If you already have accounts then add your blog URL on your profile
Another platform that I highly recommend you to use is Pinterest
Pinterest is more of a search engine than a social media platform
Create a business account on Pinterest and start promoting your blog, got my first 1k visitors from Pinterest alone
Step 10: Get Expert Blogging Education
There is more to creating a successful blog than what I've mentioned here
I've only mentioned the basics of starting a successful blog that will help you get your blog up and running
But you need to get trained to become a successful blogger
And to get authentic blogging knowledge you need to purchase blogging courses from trusted bloggers or platforms
I don't want you to waste your money on crap courses like I did when I was new
To make it easy, I recommend joining Wealthy Affiliate an all in one platform where you get blogging knowledge, social media, affiliate marketing training and also network with like-minded peeps
It's free to join (has a forever free plan) and will cost you $19 if you decide to upgrade on your first month and $49 thereafter
The good thing is, you will automatically become a Wealthy Affiliate affiliate when you join
This means you will earn money if you refer folks to WA
In other words, you will earn while you learn, read more about Wealthy Affiliate here
Happy Blogging!
Start working on your blog like nobody's business!
No matter how hard this journey may seem, stay strong and positive
Don't forget to leave your blog URL below I would love to visit your new blog
Do you have any questions? feel free to ask I am ready to help
I hope this post helped you, please show some love kindly share with your peeps and don't forget to follow me on Pinterest
Zayacy is a fulltime blogger, freelance writer and a millennial mom to boys who is on a mission to simplify blogging to new bloggers with her WordPress tutorials and actionable blogging tips so they can build money making blogs without going through unnecessary challenges. When she is not blogging she is busy watching cartoons with her boys or reading Kindle books  Check out her latest posts